Indie Mart on Sunday!!!
Updated: Mar 13, 2009 01:11
The Bay's best newsletter for underground events & news
I will be very hungover for this…
This Sunday, the Design Party that rocks the Mission moves to Potrero Hill & Thee Parkside for a Street Festival! Come see why we got Best of the Bay. Over 70 vendors inside and outside, offering everything from locally made tees, vintage, handmade, quirky antiques, cupcakes, one of a kind, unique gear for men, women & the lil' ones and more. Throw in amazing BBQ & handmade food all day long, stiff drinks, cheap beers, a pumpkin patch with carving station, the postcard machine, djs outside all day (the magnificent 7, primo and drunk dial djs), bands all day inside (french cassettes, nervous tics, the pleasure kills, blue rabbit & les hormones), much, much more. We're shutting down the street again to bring you a big ole' party that kicks all the other design festival's asses.
Spare the air & take the 22 Fillmore bus right there or ride your bike! Plenty of parking  as well. Bring your friends, come on out and shop, drink, hang out and eat.
www.indie-mart.com
www.theeparkside.com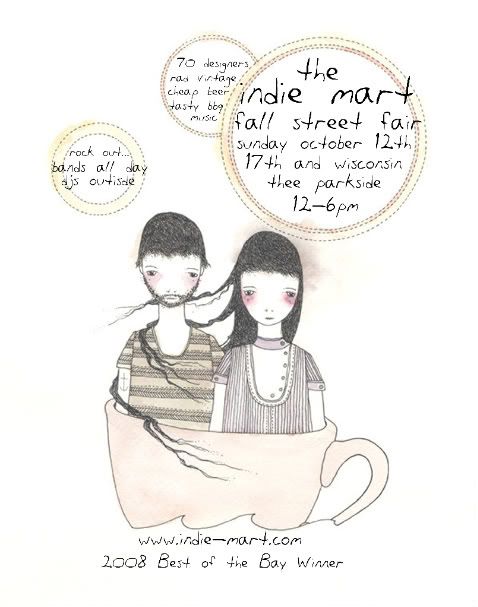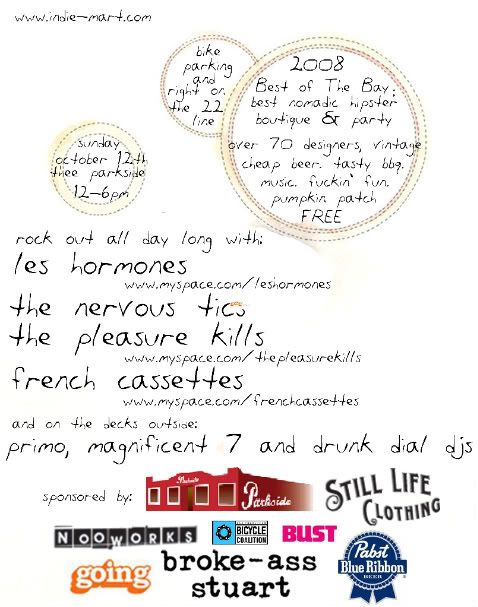 Like this article? Make sure to sign up for our mailing list so you never miss a goddamn thing!