Six for Sexytime: Tracks to Make You Splooge
Sign Up for the Dopest Events Newsletter in the Bay Area
Do you wanna get laid?  Sure, we all do.  Here are six tracks that can put you on that road to sexytown, either all by your lonesome, or if you're lucky enough to swindle someone into putting their mouth on your genitals and whatnot:
1. Wolf Like Me, TV On The Radio


(This is the only embeddable video I could find)

Until two days ago (SERIOUSLY!), I was not aware of the exact lyrics to this song.  I was playing Rock Band with my roommate, and I literally stopped in the middle of the song to declare "HOLY SHIT!  This song is fucking HOT!"  Not to mention that the tempo is absolutely fucking perfect for, uh, fucking!  How it's all high energy until hitting the breakdown in the middle that goes:
Dream me oh dreamer
down to the floor
open my hands and let them
weave onto yours

Feel me, completer
down to my core
open my heart and let it
bleed onto yours

Feeding on fever
down all fours
show you what all that
howl is for
Join our weekly newsletter so we can send you awesome freebies, weird events, incredible articles, and gold doubloons (note: one of these is not true).
I KNOW, RIGHT?!??!  It's amazing how this song is all at once playful, sweet, and borderline rough/menacing (in a good way!).  I don't know about you, but that's the formula that equals one good time for me.
2. Hearts on Fire, Cut Copy
Pretty much everything on In Ghost Colours is hot.  I guess this is the most explicit in its hook-up message.  To wit: "I reach out for you and out hearts collide…with hearts on fire, I reach out for you tonight."
Pretty much the quintessential meeting-someone-at-a-club-while-dancing-and-then-hooking-up-with-theme song.  Here's the video, even though it's a little 'tarded, and frankly, doesn't match the song's vibe whatsoever.
3. I See Monsters, Ryan Adams
I think it's been fairly well documented and well-known to those "in the know", as they say, that I am truly obsessed with the work of one Ryan Adams.  It's my default alone time AND anytime music.  "I See Monsters" is perhaps one of his most gushingly sweet and beautiful songs about a girl.  Yes, I know Love IS Hell, Part 1 and 2 can get a little repetitive in this way, but I feel like at least he's not whining about heartbreak in this one.  He's simply reflecting on how awesome sex with this girl is.  There may not be anything more sexy in this world than hearing Ryan croon: "Oh, oh but when she comes/I know that she's in love/Makes me want her harder /Makes me want to be a little stronger".  And yes, I know he's married to Mandy Moore.  That is neither here nor there.  And sorry there's no video or mp3, I can't seem to find the acoustic version of this song anywhere.
4. "I'm Your Man", Leonard Cohen



Ok, I know this a bit creepy of a choice (the video is a whole story in itself), but honestly, just based on voice timbre alone, is there anyone with a sexier voice?  Sorry Ryan Adams, but Leonard Cohen is totally out-manning you on that one.  I think someone once told me the intro to this song reminded them of a Jewish vampire, which I guess only adds to the slight creep-out factor.  But, come on, it's Leonard Cohen!  I think it goes without saying that I'd totally bone him.  Oh and that line about being a boxer?  HOT.
5. "Bonnie and Clyde", Serge Gainsbourg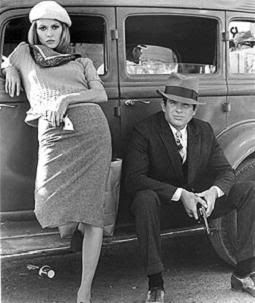 OK, I know Pete Yorn and Scarlett Johansson are most egregiously ripping the idea of this song off Serge Gainsbourg and Brigitte Bardot.  But it's like, essentially, the cultural touchstone for all that is sexy and French.  This track is sure to make you feel like your hook-up has a deeper, more existential reason to it than just pure unregulated and unchecked self control.  Even though, come to think of it, "existential reason" is a total oxymoron.  Whatevs!  I just wanna smoke cigarettes, dress like Faye Dunaway, and have sex with Warren Beatty circa 1967.
6. "Couleurs", M83



This track is pretty perfect for playing at your house once you've brought someone home and you're about to get into some of that good 'ol foreplay.  It's ambient-y, yet chock full of energy that continues to built gradually and then subtley peter out.  Clocking in at 8 minutes, 35 seconds, it's kind of like a musical alarm clock that tells you when foreplay needs to end and fuckin' needs to begin.
Like this article? Make sure to sign up for our mailing list so you never miss a goddamn thing!