Eugene Mirman Comedy Festival
The Bay's best newsletter for underground events & news

I know this site is all about free entertainment, but some things in life are worth paying for and seeing Eugene Mirman is one of those things. Now for all those non-comedy nerds out there, Mirman plays the landlord on the HBO's series, 'Flight of the Conchords'. He's done a ton of TV comedy specials over the years and hosts a regular comedy night with comedian Michael Showalter. One at the now defunct Rififi and Union Hall. Eugene as I like to call him, (as we are now on a first name basis since he licked my hand one fateful night 4 years ago), is sort of a comic's comedian. He has a posse of famous friends and seems to be loved by all.
Today marks the conclusion of the 3-day Eugene Mirman Comedy Festival which I was lucky enough to attend on Friday. Starting at 3, Leo Allen (who is also hysterical) and Eric Slovin host the panel "Why Talented People Create Terrible Shows" at the Bell House. A question I have often asked myself while watching Weeds.
Later saunter over to Union Hall to see "Witty Cartoon for Snobs" where cartoonists from the New Yorker and less snooty publications go head to head for a no-holds barred cartoon off. Followed by a surprise musical guest.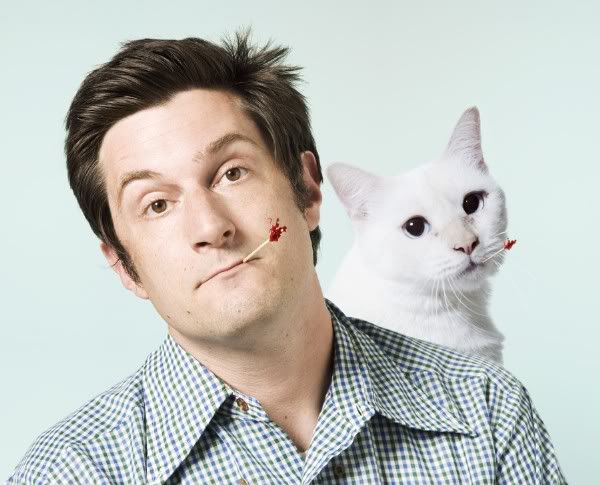 Back to the Bell House for "Ten Drink Minimum: Stores Leading to Sobriety" with Michael Showalter and more funny people. (If you don't recognize the names, look them up cause this aint IMDB bitches).
And wrapping up the festival is "Tearing the Veil of Maya" with Mirman and friends. If you can't do a days worth of comedy I highly suggest just waiting for this show. And whatever you do, don't eat the food in the VIP room (aka a cardboard room with streamers attached to it) it will make you ill. Just looking out for you kids!
Eugene Mirman Comedy Festival
3-8:30PM
Bell House
149 7th St (Between 2nd & 3rd Ave) [Gowanus]
Union Hall
702 Union St, at 5th Ave [Park Slope]
Like this article? Make sure to sign up for our mailing list so you never miss a goddamn thing!