Let's Get Drunk and Sing: NYC Karaoke Guide
The Bay's best newsletter for underground events & news
Karaoke is one of those things that either begins or ends your night.  You know what kind of night you've had when you find a ticket stub from Sing Sing in your pocket and you wake up on someone's couch.  Just like bowling, Karaoke is one of those group activities you usually get roped into for someone's birthday or a slow Thursday night and allows you to see a certain side of your friends that usually reserved for the shower.  And since New York is full of wannabe musicians and drink specials, the two usually collide in beautiful, cringe-inducing glory.  So if you find yourself itching to sing "Blame it on the Rain", in a public forum, here are a few places you can make that happen.
CAR-AOKE @ Woods Bar
Many of you who don't live in Williamsburg may not be familiar with Anthony Delia. Most people don't know his name, but they can certainly spot his car.  Delia has a fondness of driving around in his red Subaru and belting out old Sinatra songs and other crooners.  He certainly has a pair of pipes, and you can hear them for yourself when he hosts a new regular karaoke night at the new southside bar, The Woods.  Serenade your friends and then reward yourself with some tasty tacos in the truck in the back of the bar.  And leave Old Blue eyes to Delia.
Old Standby: Sing Sing
Sing Sing is both a New York institution and a mini-chain and offers both the private ad public karaoke experience.  I recommend the Ave A location over St.Marks because it has private rooms in the back and pay as you go singing at the bar. And one more important distinction, it has liquor.  For big groups, you can rent rooms in the back and hit a button for never-ending drinks.  The dark, cavern-like rooms and endless supply of Michael Jackson songs creates a sort of black hole where you lose your sense of time completely. If you want to wow random strangers with your Morrissey impersonations,  saddle up at the bar and get a song for every drink.  I guarantee you'll make new friends.  I've also witnessed the entire bar sing in unison to "We Are the World", so there's no shortage on camaraderie.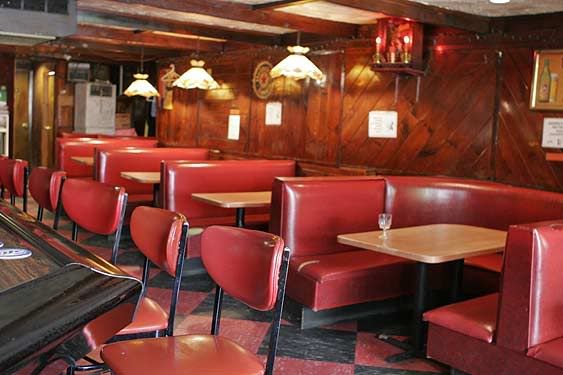 Chinatown Dive: Winnie's
In most sites, Koreatown is known to be the epicenter of Karaoke,  but most of these BYOB gems have closed down with the exception if iBop.  If you're still looking for a cheap place that doesn't get packed, then Winnie's is the spot for you.  This unassuming Chinatown spot is not for shy types.  There's a stage in the back that faces the whole room while your voice in projected throughout the whole place.  But I doubt you'll hear any boos, since most of the patrons speak English as a second language.  If you're  more of an observer, snag a booth for your friends and mock them from afar.  the scene here is, there is none. People are more likely to be doing shots of Hennessy then guzzling PBR. It's a mix of neighborhood types and people who randomly stumble in just like myself.
Rock and Roll Karaoke @ Arlene's Grocery
Some of us require a drink or two before we bomb onstage and then there are those who swagger onto the stage, mic in hand, and sober as the day they were born.  For the spolight-mongering amateur rockstars, sometimes a stage is not enough and they need a full band behind them.  And it's for those people, that Arlene's Grocery hosts their regular 'Rock and Roll' Karaoke.  Every Monday at 10, you can see people singing their hearts out, sliding on their knees,  and more generally gyrating to AC/DC to a packed house.  It's certainly not amateur hour, but I hear it's great for working though some of that end of the work week angst.
Photos Courtesy Of:
Plate of the Day Food Blog
NYMAG.com
NYCGO.com
Like this article? Make sure to sign up for our mailing list so you never miss a goddamn thing!