Make New Friends but Bring the Old
The Bay's best newsletter for underground events & news
When I first walked by HiChristina, all I saw was a whirl of lights, projection screens, and people dancing like they were having the time of their life. I was intrigued to say the least. Having done a little digging, I found out that the space is run by Christina Ewald and Fritz Donnelly, who host regular themed events that combine the avant garde and performance art, and sometimes dance parties. From the sounds of it, I wasn't sure if I had attended enough drama classes in my life to fit in with this crowd. My one and only attempt was a performance art class in college that involved me picking up trash in an empty gallery in front of the whole class for 20 minutes. Yikes. But sure enough every time I walked by, I would see people dressed up wearing Lady Gaga-esque bubble ensembles or Pee Wee Herman projected onto a screen. If you're as curious as I am, tonight is the perfect opportunity to see for yourself with their "Make New Friends" party.  Think of it as a mixer for the creatively-inclined, complete with kool-aide, crafts, and like minded strangers aka your new B.F.F's. It starts at 5, so you'll have plenty of time to enjoy this freakishly nice fall weather.
Sodafine Sunday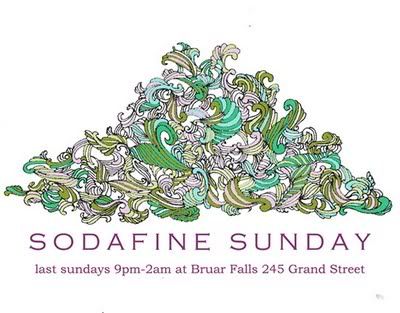 If you're a chump like me who does the ol' Monday through Friday work routine, Sunday nights can be bittersweet since they mark the inevitable return of the work week. But they don't have to be anymore, the good people at Sodafine and other local boutiques have been hosting regular Sunday night shindigs at Bruar Falls, that include spinning fantastic soul music, a pop-up vintage shop, and great drink specials. Warning: it's no coincidence that drinking enables shopping but I'm all for buying one of a kind items and supporting my local stores. Other participating stores are Treehouse Brooklyn, Franny & Roey, and Sweet Virginia. You can find me there drinking and dancing my way into Monday.
Make New Friends
HiChristina
5pm
$10 donation
RSVP to rxapparel@gmail.com
632 Grand St, between Leonard & Manhattan [Williamsburg]
Sodafine Sundays
Bruar Falls
9pm-2am
245 Grand St, between Roebling & Driggs [Williamsburg]
Photos courtesy of HiChristina & Sodafine

Like this article? Make sure to sign up for our mailing list so you never miss a goddamn thing!