Broke-Ass Guide to Working Out
The Bay's best newsletter for underground events & news
Like everyone else, I pretty much ate my weight in carbs this past holiday weekend, so naturally I'm looking to drop my phantom baby weight in the new year. But you know what, gym membership inflation is right up there with college tuition and I don't have an extra $60 laying around every month to shell out for abs class. Every day I walk pass the behemoth that is Equinox gym with their koi ponds and juice bars and wonder where can I find a gym that involves cut off sweatpants and no judgment.  So if you're a broke-ass schlub like me, here's a couple of options to get fit for free or very cheaply.
New York City Recreation Centers
When people hear the words "community gym", images of scary communal showers and rusty equipment come to mind, but I have to give props to the New York City Parks Department. Their facilities aren't too shabby. 30 bucks gets you a six month membership and access to locations all over Manhattan and the outer boroughs.  Many of their facilities have indoor pools, and not the kind with floating Baby Ruth's if you know what I mean. Whether you're up for a mean game of ping pong, or attending free classes, these gyms certainly offer a lot of bang for your butt. Plus you don't have to worry about dressing the part here, you could wear a cut-off Pantera t-shirt and mesh shorts from 1995 and no one will bat an eye.
Yoga to the People
With a democratic credo for a name, Yoga to the People provides what it advertises. With free classes offered various times throughout the day and three locations, you can get your downward dog on anytime of the day. They offer regular yoga, hot yoga and Vinyasa yoga. Being that I can barely touch my toes, I'm tempted to try all three. But just because it's free doesn't mean you can throw a donation your instructor's way now and then. You don't have to be spiritual to know how karma works. Get there early otherwise you'll be sharing mat space and getting a face full of a stranger's derriere. Unless that's your thing.
Babysitting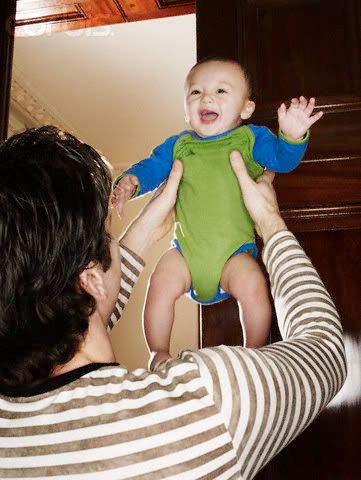 You ever feel sore in muscles you never use and can't figure out why? Riding back to New York after the holidays, I couldn't figure out why my arms were so sore. I didn't do any fist pumping or chopping wood, or god forbid actual push-ups, then I figured it out. I was lifting kids most of the time. Have you ever SEEN a parent's arms, those things are like tree trunks. So I figure why not get paid and get free exercise in the process while babysitting. Sometimes they even run and you have to catch them. Free cardio! Register at Sittercity.com and receive job alerts for sitter opportunities all over the city. I'm not talking about signing your life over to nannydom, but if you're ever strapped for cash, think about those jiggle-free arms you had at the tender age of 15, right at the peak of your babysitting days.
Fitness Guru
Before there was "Buns of Steel" and "Biggest Loser", there was Gilad Janklowicz. This former Olympic athlete and Israeli poster boy was showing folks how to get fit back in 1983. Now that's almost 2010, Gilad is still going at it, and his perfect coif hasn't changed since.  If you're one of those people who prefer not to sweat it out in public, just track down some Gilad videos online or on eBay and get started on various sculpting, shaping, and toning of your hapless, American, lazy, body. An added bonus, this guy's accent is hilarious so if you laugh in between sets, that's just extra calories you'll be burning.
And for the people who will say "just ride a bike", there aren't enough face masks in the world that would make me cruise around in January.
Like this article? Make sure to sign up for our mailing list so you never miss a goddamn thing!