Beard Ball: Go Beard or Go Home!
The Bay's best newsletter for underground events & news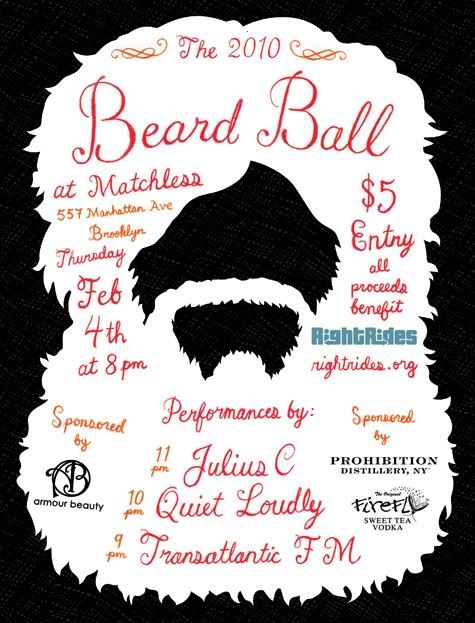 The 2010 Beard Ball is a place to show off your beards, brought to you by Build-A-Beard, founded by my girl Riss and someone who goes by "El Beardo".
According to them, Build-A-Beard:
…recognizes those who display a commitment to the excellence of facial hair growing whether fully maintained, trimmed daily, or free flowing.  We embrace beards, 'staches, goatee styles, flavor savors, soul patches, chin straps, mutton chops, and any form of facial fuzz creativity.  Build-A-Beard realizes the courage to make the decision to grow  – to forever put down the scissors and razors – a challenge not only to your character, but a test of will against a society who might not fully understand your DIY artistic expression.
And if you're a beard/lumberjack fetishist like yours truly, then there's no other place you'd want to be tonight other than BEARD BALL 2010.  Yes, it's exactly what it sounds like.
What could be more awesome than that, you ask?  Well, it's only $5, Firefly Vodka is the sponsor, there are 3 bands playing, and all ticket and door sales go to RightRides, an organization that works towards building safer communities and ending gender-based sexual harassment and assault by community organizing and offering direct service, safety education, and advocacy programs.
Beard Ball 2010
Thursday, February 4
Matchless
557 Manhattan Ave (at Driggs) [Williamsburg, Brooklyn]
8pm
$5 Entry, $5 Firefly Vodka Specialty cocktails
Like this article? Make sure to sign up for our mailing list so you never miss a goddamn thing!