Hori Smoku Sailor Jerry Film Screenings TODAY and Thursday!
The Bay's best newsletter for underground events & news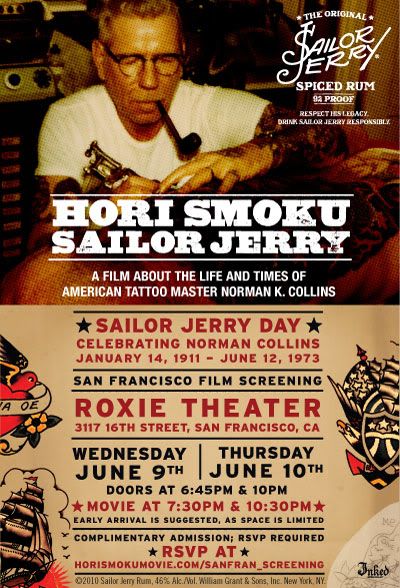 Do you like tattoos? How about Rum?  How about badass old guys who do tattoos and end up having a rum named after them after they die?  I thought so.
Hori Smoku Sailor Jerry:  A Film About The Life and Times of American Tattoo Master Norman Collins
Wednesday, June 9 & Wednesday June 10
Doors at 6:45pm & 10pm
Movie at 7:30pm & 10:30pm
Roxie Theater
3117 16th St. @ Valenica
Complimentary Admission, RSVP here (it's required!)
Watch the trailer here.
Hook yourself up with info on facebook here!
Like this article? Make sure to sign up for our mailing list so you never miss a goddamn thing!