Lovin': Country Style!
The Bay's best newsletter for underground events & news
The Patsy Cline radio station on Pandora has been ubiquitous in my room and in my earbuds for the past 2 weeks, at least.  Not only have I since been remarking that this is probably one of the best alone-time and inexpensive activities (and/or accompanying soundtracks to writing!) ever, but it kinda got me thinking about the type of female country vocalists I enjoy listening to during different times in life with relation to dating and such.
It's kind of funny and antiquated or else very specific to old school country music, that vocalists or artists would create (or were created as) these very distinct personalities that are, though exaggerated, more relatable to the average country listener, than say, pop stars during that time, or even now.
Here's what i mean:
Patsy Cline
Let's face it, there would be no Neko Case without Patsy Cline.  Though Cline is mostly known for being perpetually heartbroken, there's a certain quality or degree of depth and heartfelt-ed-ness that's never overwrought that makes her, to me anyway, especially appealing.
Walking After Midnight is a fucking GREAT song for many reasons (oh, those Spongebob Squarepants slide-y guitars get me every time!), but I kind of like that she comes off as a little nuts (to say nothing of Crazy) and insecure and yet and not completely embarrassed by it.  It kind of makes me feel a little better about myself about my own facebook stalking problems.  Fun fact: Fiona Apple sometimes does a cover of this at shows.
I Fall To Pieces is great post-running into your ex or a failed romantic attempt.
Loretta Lynn
Something I've always found awesome is that Loretta and Patsy were besties!  Loretta, however, was a bit more characature-y in her Coal Miner's Daughter (though it didn't start out that way), Don't Come Home A' Drinkin (With Lovin' on Your Mind) and (my favorite title of a song ever) Feelins slice-o-life type style of songs.  Though she can be problematic, feminism-wise (even though you ARE sort of clever and hilarious, I'm looking at you, Fist City and You Ain't Woman Enough!), no one plays the put-upon wife quite like her.  I kinda like that she uses being underestimated as a woman/human being to her advantage to point out the injustices and double standards of societal structures. So what I'm saying is, it's best to listen to her when your boyfriend cheats on you or if he's being a dick in a very gendered way.
Tammy Wynette
Oh, Tammy.  She's like an unfortunately misguided insecure friend, or the parts of your personality that disgust you the most.  She's Country music's resident "other woman" and asshole apologist.  You're simultaneously repulsed but can empathize with her pathetic excuses, justifications, and reflections.  A great example of this is Stand By Your Man— a fucking GREAT song whose lyrics are fucking foul and insulting to both men and women.  Listen to this as a reverse psychology technique when you're trying to talk yourself out an illicit affair or a bad relationship.
June Carter Cash
Though I haven't listened to her much outside of a Johnny Cash context, I love that she's the brash and fiery answer to Johnny's casual misogyny.  They're like a Hepburn-Tracy film!  And aren't those the most exciting types of relationships?  Definitely listen to this when arguing with your boyfriend.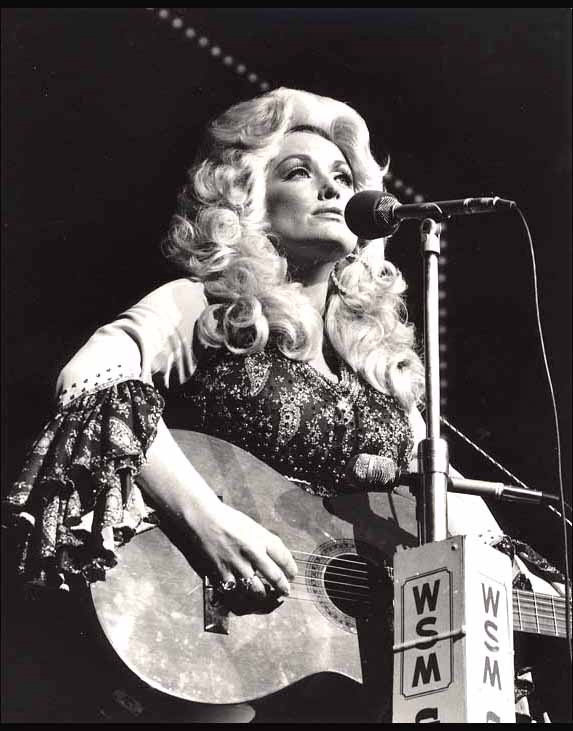 Dolly Parton
Much has been written about this country icon– one of my most favorite pieces being The AV Club's Nathan Rabin's here.  On a personal note (because you know, I'm usually so detached and formal), Dolly Parton back in the day physically resembles my mother, like A LOT– a fact that my mother, having the exact opposite personality from Parton, fucking HATES to be reminded of.  So Parton is kind of what I would imagine my mother to be like…if she were in all ways opposite, personality-wise.  And not that my mother isn't sweet, but Parton has an incredibly genuine sweet quality in her voice that no one I can think of in terms of artists today really have except maybe Joanna Newsom.
Jolene is the fucking JAM!  Listen to it when you want to lay it all on the table and you're coming to terms with, like, anything, really.
Emmylou Harris
Similar to Carter Cash, Harris is one of those people I haven't really heard outside of backing/harmonizing like Gram Parsons or Conor Oberst or something (oh, and Nathan Rabin also wrote a great piece about her here).  But, damn, does she have an other-worldly voice with flawless pitch that will take you away.  You should either listen to her in the depths of heartbreak despair, or at the highest heights of being in love.
Random request: Can one of these women (who are still alive) do a cover of Dylan's Don't Think Twice, It's Alright, please?
Like this article? Make sure to sign up for our mailing list so you never miss a goddamn thing!