Broke-Ass Beauty: The Ravages of Age
Sign Up for the Dopest Events Newsletter in the Bay Area
Allow me to introduce a syllogism that I believe to exist without fallacy within the four walls of this blog.
Angelina is one of the most absurdly beautiful women alive.
Absurdly beautiful women do not age well
Angelina Jolie will not age well.
The facts are simple and immutable. Angelina Jolie's face is so striking that it makes my head hurt.  Pillowy of lip, angled of eye and with cheekbones that you could slice a brisket on, she is the result of a delightfully sexy genetic accident. The accident is happier still when one considers her parentage. Yeah, things could have gone a really bad way.  The (aesthetic) tragedy is, however, that Jolie's beauty will soon double back upon itself and the results will be (aesthetically) merciless.
Angelina Jolie's is a beauty of extremes: full mouth, sharp cheekbones, huge eyes, strong jawline.  Precisely what makes her so beautiful are these extremes; the exist in that fine, rarefied space between beauty and cartoonish, eerie freakishness. Were her mouth any wider, her eyes any bigger, her facial angles any more defined, she would be grotesque.
Join our weekly newsletter so we can send you awesome freebies, weird events, incredible articles, and gold doubloons (note: one of these is not true).
This was true as well for Brigitte Bardot, Anita Ekberg and Anna Karina, all astonishingly looking in their heyday for precisely the same reasons.  Bardot, in particular had a Jolie-esque look that owed it's beauty to the grace of good proportions.

See?
Age, however, seemed to spread and bloat and do all sorts of terrible things to poor Brigitte, though, not the least of which was turning her into some sort of crazy Muslim hater.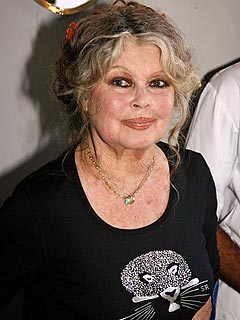 Chilling, no?
The hands of Father Time were no kinder to Anita Ekberg whose beauty in films like La Dolce Vita verged on otherworldly.

But now? Well, yikes.

Yeah.
While I'm not even approaching the same universe of hotness as any of these women, I still think it's worth it to try to look good.
I hit the big 3-0 this past June and it's got me thinking about aging. Skin aging and wrinkles in particular. I was blessed with pretty good genes as far as that goes and a mother who was so appearance-driven that I started to get face creams as birthday presents back in the seventh grade.  But are pricey face creams and placenta treatments really necessary?  No.  There are cheap and hell, even FREE ways to keep your skin looking great well into middle age, and it's all about prevention. This is, likely, what will save Angelina from the fate of Ekberg and Bardot.
Sunscreen
Everyone who knows anything about skincare says if you wear sunscreen every day before you're 30, you dramatically decrease the need to get any sort of lifting, tucking, laser surgery or even profoundly expensive skin cream in your later years.  Start now, use a lotion with SPF in it, and just get into the habit of throwing it on your face, neck and the backs of your hand every single day. Aveeno makes great affordable stuff, La Roche Posay at CVS and Duane Reade is also excellent, and if you have money to burn Clarins is where it's at.
Nighttime Moisturizer
Your skin regenerates while you sleep. The reason you feel and look better on vacation is because you are generally resting more and so your skin is getting the best chance possible to renew itself. Again you don't need to spend a fortune. Dermatologists regularly praise the compounds found in night creams like L'Oreal Regeneriste, Oil of Olay Total Effects cream and their anti-aging line, Neutrogena  and the slightly pricier Clinique.  A jar lasts a while and for under $25 there's no excuse not to.
Eye Cream
There's something very luxurious about slathering on a rich eye cream, but that shit's expensive.  I used to sneak my mom's Chanel stuff, I've used Kiehl's and Clinique, and I am here to tell you that nothing is better than plain old Vaseline. Pat some around the eyes and pass out.
Make-Up Remover
No matter how wasted I get, I always, always wash my face and take off my makeup.  I never really messed with makeup remover, but at the behest of an older friend I tried Sterling Cooper Draper Price's latest product, and haven't looked back. Pond's Cold Cream is everything, especially if you are prone to dry skin.  Slather it on, tissue it off , rinse lightly and you're done. Makeup and dirt and oils are GONE, and your skin is left with a silky layer of moisture.
Duh
Drink water and sleep, guys.  Seriously, do both of those things as much as you possibly can.
Like this article? Make sure to sign up for our mailing list so you never miss a goddamn thing!