Smell the Glove at St. Jerome's
The Bay's best newsletter for underground events & news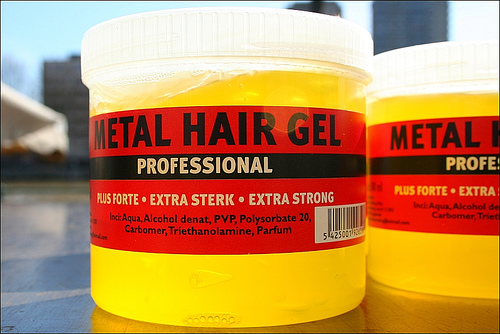 If you're anything like me, you bought an iPod or MP3 player because you were sick of carrying CDs everywhere. Also, you probably decided that some albums weren't worth converting to a digital format, and abandoned the albums you kept around for theme parties, guilty pleasure and attacks of nostalgia sitting in your parents' basement. If you're craving some of the heavier music from the 80's that's currently covered in a quarter of an inch of dust, then go to St. Jerome's tomorrow night. Brooklyn Ski Club and Nickels and Dimes bring you the fifth installment of Smell the Glove, a night full of the 80's hair metal and hard rock. Bands promised on the playlist include: Sex Pistols, Motorhead, KISS, The Cult, etc accompanied by a fog machine. To make sure you can't feel the whiplash forming as you headbang, the bar will be selling $2 Buds until midnight and giving away free vodka from 2 to 3am. Also, going to St. Jerome's is way less of a trek than going to your parents' house.
Photo from media.onsugar.com
Smell the Glove: 80's hair metal night
St. Jerome's
155 Rivington Street between Clinton and Suffolk Streets [Lower East Side, Manhattan]
Thursday, August 26
10pm to 3am
Like this article? Make sure to sign up for our mailing list so you never miss a goddamn thing!