Caption The Couple
The Bay's best newsletter for underground events & news
It all started when I was on a weekend getaway with a man friend. We were staying at the apartment of a good friend of his who was engaged and living with his fiancee. Anyway, they had this corkboard in their kitchen area upon which various cards, Save-The-Dates, receipts, photos, whatever people put on corkboards could be found. One of the photos was of the said friend and his fiancee at some sort of conference (they work in the same industry) in which they were wearing name tags and smiling, his arm over her shoulder. My man friend, being the stealth funny-maker he is, walks by and nonchalantly points at the photo and says in his best "Great Job" voice (the "Great Job" part of "Tim and Eric Awesome Show, Great Job", that is): "Hi, we're a couple".
Well, perhaps the proverbial "you had to be there" sort of applies, but that doesn't mean you can't partake in the game I just made up called "Caption The Couple". Basically, you find photos of couples on the interwebz, and either create a dialogue or some sort of caption/commentary back & forth on IM with someone. It's kind of like The New Yorker cartoon contests, but about 50 billion times more lowbrow, and actually makes sense (hopefully).
Away we go.
Couple #1
Chad was just arrested for indecent exposure and drunk driving while listening to "Butterfly" by Crazytown when he met Cammie in the drunk tank, who was in for being the ringleader to a  bachelorette party gone very wrong (that was the actual charge). That night, they discussed life, love, and the pursuit of happiness. Obviously, they decided to "never let go" and that they completed each other, just like Pamela Anderson and Tommy Lee. This photo was taken just before they had a disagreement about which matching neck tattoo they ought to get and broke up forever.
Couple #2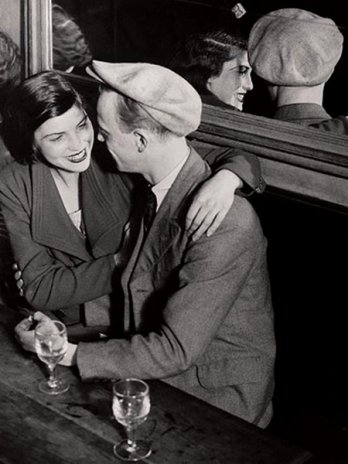 Man: Hey-ya beautiful, what's say you and me take a ride in my automobile and paint the town red?
Woman: Hee hee, I don't go riding off with strange men!
Man: Well, I slipped you a mickey, and in these days, that's legal, so, technically you really have no choice about it, see?
Woman: Whatever you say! I guess it's better than getting beaten by my father with a steel rod, which is also legal.
Couple #3
On the next A&E's Inside the Minds of Murderers: how the hell did no one see this coming?
Couple #4
WE DO EVERYTHING TOGETHEEEER!
Couple #5
Amber and Michael met as extras on the set of Mannequin 5: The Waxening. Michael proposed to Amber at their favorite restaurant, PF Chang's, and once she said yes, they, in unison, both exclaimed: RAMADA HERE WE COME!
Now it's your turn to try!  Leave your captions in the comments below.
Like this article? Make sure to sign up for our mailing list so you never miss a goddamn thing!