Dave's Two Weeks 'Til Payday Sandwich
The Bay's best newsletter for underground events & news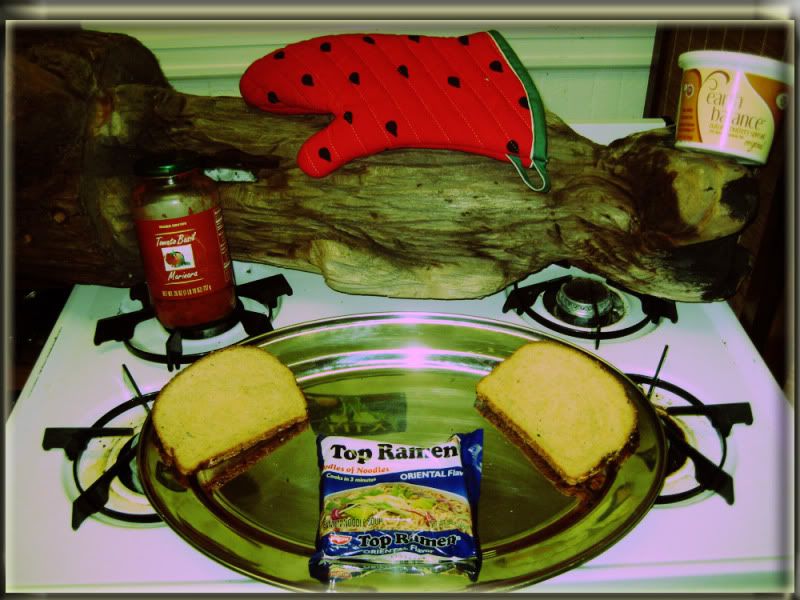 Ingredients:
Spaghetti Sauce (room temperature)
2 Pieces Whole Wheat Bread (the cheaper the better)
10 lbs. Buttery Spread
Oriental Top Ramen (preferably cage-free and organic)
Directions:
1. Place enough water to cook one package of Top Ramen in sauce pan. Bring to boil.
2. While water is coming to boil, apply 1mm layer of buttery spread to each piece of bread (for best results, do not toast). Cover all surfaces.
3. Open package of Top Ramen, remove only dried noodles. DO NOT BREAK THE NOODLES.
4. Text mom and thank her for something nice she did for you as a child. Proceed to ask for cash as an early birthday present.
5. Dry tears from table.
6. When water has come to a boil, insert ramen into the pan.
7. Shake the seasoning packet. Open and set aside to breathe.
8. Stir noodles as needed. DO NOT BREAK THE NOODLES. Boil until mushy.
9. Drain all water while leaving noodles in the pan.
10. Add ½ of the seasoning packet (full packet if you're disgusting). DO NOT BREAK THE NOODLES.
11. Add spaghetti sauce as desired.
12. Stir vigorously (to use the correct amount of force, it may help to remember a time you were slapped in public).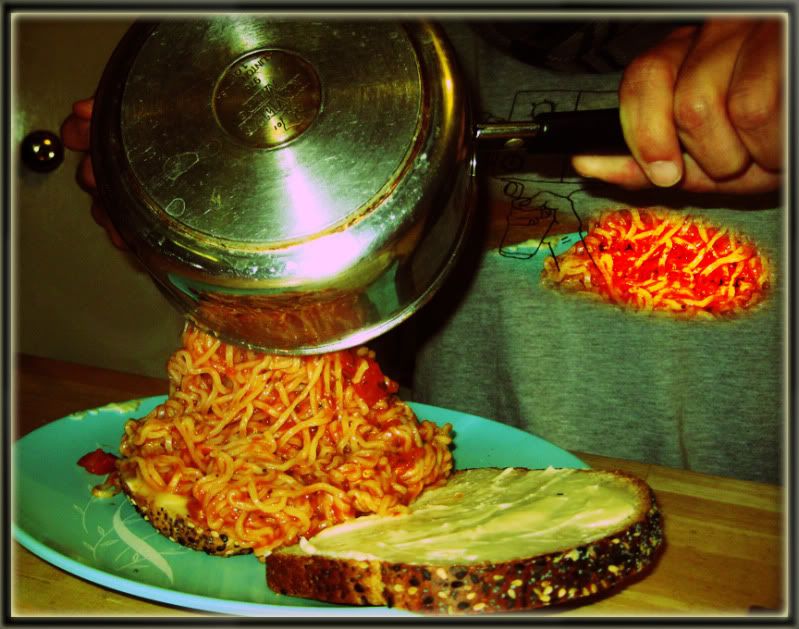 13. This is where things get sexy. Ever so gently spread the noodles on one buttered piece of bread. Apply the other piece of buttered bread face-down to top of sandwich.
14. Drizzle additional spaghetti sauce on top of sandwich.
15. Set aside used pan for roommates (or mom) to wash. Eat sandwich with fork.
This dish is best enjoyed with Cool Ranch Doritos, Gatorade Vodka, and an old episode of CSI.
Like this article? Make sure to sign up for our mailing list so you never miss a goddamn thing!