Tonight: The Revolution Will be Live Streamed
The Bay's best newsletter for underground events & news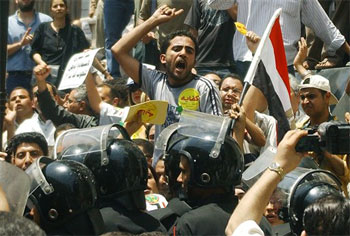 Before there were babies named Facebook, civilian revolutions popped up all over the Middle East, demanding basic freedoms, democracy and human rights. Their protests brought down long-running oppressive regimes, and their voices were heard all over the globe. Here in New York, Hybrid Theatre Works called on artists to react to the unrest in the Middle East through new original pieces. Tonight, you can see their reactions at The Revolution Will Be Live Streamed.
Hybrid Theatre Works is an emerging theatre company that uses art to start discussions and promote peacekeeping. The Revolution Will be Live Streamed is an installment of their Artistic Response Forums focused on technology's role in the Middle East revolutions. It's a collection of performance and visual art, poetry and video from local performers and artists from Libya, the UAE, Egypt and Lebanon. After the show, there's an after party so you can talk to the artists and the other audience members. Plus, there will be a belly dancer. Tickets are $15 at the door, but if you buy your ticket online right now,use the discount code ARTIST to get your tix for $10.
photo from modernvedicastrology.com

The Revolution Will Be Live Streamed
by Hybrid Theatre Works
Alwan Center for the Arts
16 Beaver Street, #501, between New Street and Broad Street [Financial District, Manhattan]
Wednesday, May 25 7pm
$10 presale with discount code: ARTIST
$15 at the door
Like this article? Make sure to sign up for our mailing list so you never miss a goddamn thing!