It's 'Bake' To The Future Day
The Bay's best newsletter for underground events & news
October 21st, 2015 is the day Marty McFly travels to into the future in Back to the Future Part II. Although flying cars, hoverboards, and self drying clothes have yet to be invented there are delicious cookies to be eaten in those shapes. To mark this occasion superb cookie and cake decorators around the world have joined forces to create Back to the Future themed edible art to benefit a very good cause.
I got to chat with Shel Young of Sweet Petite about how she and her baking comrades are celebrating Marty McFly Day in a very special way.
Being a huge Back to the Future fan, Shel really wanted to do something to mark Marty McFly Day. At first she thought about throwing a party, but wasn't sure how to go about it. There is one thing she does know, that baking! And thus Bake to the Future was born! "It's a collaboration with a fundraiser on the side, creating BTTF themed cakes and cookies and then, if possible, selling to benefit charities. The Parkinson's Research Foundation and those like it are the obvious choice as it's the disease that Michael J Fox suffers from."
"I was astonished when 50 people signed up to help in this project when word spread through cookie/cake forums. People from the UK, Denmark, Norway, Austria, Italy, Mexico, Canada, and the US all wanted to join in!"
"Kristi from Ahimsa has proceeds from their cookie sales going to the Maine Parkinson Society."
"Marie from The Little Chairty Cookie House has their proceeds going to Parkinson's UK."
"The folks over at Lille Kage Hus are also donating the sales from their 'Hydrate Level 4' cookies to Parkison's UK."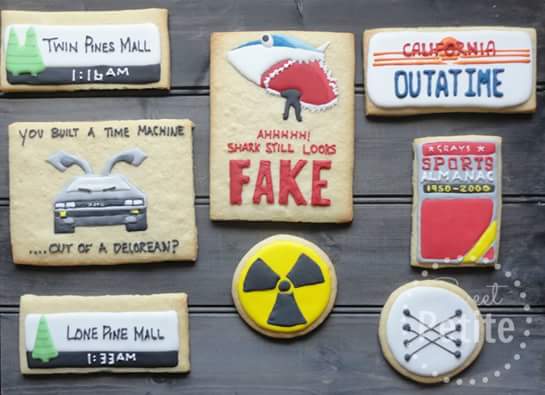 "The fundraising effort for Parkinson's charities has been amazing! Selling BTTF creations to friends, families, and customers our artists smashed the initial target of a modest £88 (Shel lives in the UK) within in a week in pre-orders alone!"
Above are the amazing cookies Shel baked herself for this special day. The shark might be my favorite of all the ones she's showed me.
Parkison's is an incredibly tough and progressive disease that there is no known cure for yet. It is estimated that about 6 million people around the world are currently living with this disease. If you would like to get involved are learn more check out the Michael J. Fox Foundation.
Also follow Shel and all of her baking adventures over at her blog Sweet Petite and look for more from Bake to the Future.
Like this article? Make sure to sign up for our mailing list so you never miss a goddamn thing!