Why Daytime TV is Absolutely Incredible
The Bay's best newsletter for underground events & news
It's 1:30PM, what are you watching?
Assuming you're free in the middle of the day and you don't use that time to read or job-hunt or learn a new skill, you are probably not watching daytime TV. According to the ratings, the days of the twenty-something unemployed daytime TV viewer are pretty much over. It's a shame because there's still so much good trash on between the hours of 10:00AM and 4:30PM (the hours officially designated 'daytime' by the networks) and most of it can't be seen any other time–you never hear about paternity tests or out of control teens during primetime. They never break out the lie detector on morning shows.
So save the Netflix for when you're gainfully employed and can afford a subscription, put the job hunt on hold, dog-ear your place in The Brother's Karamazov, and tune in with me.
THE HONORABLE JUDGE JUDY
All rise! The one thing all court shows have in common is an emphasis on 'the people' AKA you. You share with the Honorable Judge Judy a sense of irony that her plaintiffs and defendants lack. She speaks for the viewers, and tends to throw cases out or settle them about the time the viewer is over it. Rudeness is never tolerated in the TV courtroom, stupidity is swiftly punished. Judge Judy is not one to suffer fools.
MAURY POVICH'S MODERN-DAY FREAK SHOW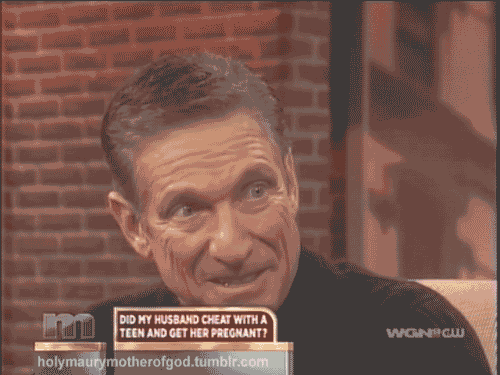 The low-brow talk show eschews likability and rarely gives us anyone to identify with. Maury resists analysis, context, and even opinion. The point is spectacle in an age without gladiator matches.
Unlike Jerry Springer, who remained neutral and un-phased by the insanity on his stage, Maury tends to inflame his guests. He's not afraid to tell them they should be ashamed of themselves. When they need a minute backstage, Maury follows.
STEVE! STEVE! STEVE! STEVE!
A great newcomer to the freak/talk show genre is Steve Wilkos, the bald bouncer from The Jerry Springer Show, now the host of The Steve Wilkos Show. This video– 'did my boyfriend rape my mom?'– should give you an idea of what he's all about.
SOAPS
How about a never-ending story to go with your groundhog day Monday through Friday existence? To find which soap opera is right for you, pick up one of those soap opera digests at the register of your local grocery store and tune in for the long haul. America's longest running soap, The Guiding Light, has been on the air since the Korean War (1952) with 15,000 episodes and counting.   
DR. PHIL & THE BIG HEALING COUCH

They say sobriety is for people who want it, not people who need it. Dr. Phil is what happens when people who need help but don't want it have help forced upon them. The good doctor takes on sociopathic children, nail-bitting codependents, people who think they're Jesus, and identical twins who prostitute together. Nobody gets past Dr. Phil's B.S detector, nobody is too tough for Phil's tough love.
Like all great daytime tele, the healing talk show is all about you, how your problems could be worse, and you might go about staging a shit-show intervention of your own.
LIFETIME -OR- TRUST NO MAN
Suppose you crave narrative and plot in your daytime viewing but don't have the endurance for a 50 season soap opera, check out Lifetime.
Their plots have come a long way in terms of complexity. The other day, they had one about, what else but, a smart beautiful woman in danger. But there was a twist: the would-be killer wasn't the charming but possessive boyfriend you suspected the whole time, but the weasely nice guy-friend who spent half the movie trying to save her from the possessive boyfriend. Crazy. Moral of the story, women are never safe on Lifetime.
In 2010, Lifetime aired the masterpiece that is The Pregnancy Pact, based on the true story of a group of high schoolers in Massachusetts (represent!) who all vowed to get pregnant by the end of the school year. Viewers have speculated that the girls of the real life pregnancy pact will be on Dr. Phil one of these days.
* * *
While primetime dramas want to bring you into their world, and the 24-hour news  keeps you on edge about this world, daytime TV isn't so demanding. Its job is to reassure. You're not as sick as the people on Dr.Phil, Judge Judy feels the same way you do about the idiots in her courtroom, and Maury reminds you to count your blessings: At least Victoria isn't your child, at least you know who fathered your children. Even the commercials are about you: Have you ever thought about getting your associate's degree? Have you been hurt in an accident? (you may be entitled to compensation.) Yes, your T.V knows you're jobless.
IMAGES: Hollymauryofgod.tumblr, Lifetime, Daily dot, Chud 
Like this article? Make sure to sign up for our mailing list so you never miss a goddamn thing!