Top 5 Bad/Great Movies Peaches Christ Has Done Onstage, In Gifs And Video
Sign up for the best newsletter EVER!
This weekend's performance of "She-Devil" at The Castro Theater marks yet another live-action, drag-infused Peaches Christ stage interpretation of a cult underground movie. Going back to the days of the Bridge Theater's Midnight Mass pre-shows, Peaches has done bushels of these live-action, drag show stage versions of movies. Let's apply a little foundation and look back on the best/worst shows and performances that have come out of this uniquely San Francisco genre.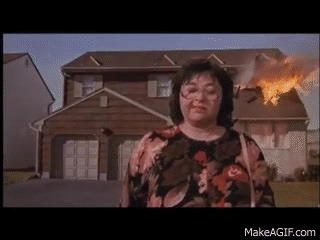 5. SHE-DEVIL
I don't know that you will see a house get blowed up on the Castro Theater stage, but at this Saturday's presentation of "She-Devil" at The Castro you will see Peaches in the Roseanne Barr role, Sharon Needles in the Meryl Streep role and — since this is Broke-Ass Stuart we must acknowledge — Holotta Tymes in the role of "Pooper".
4. MOMMIE DEAREST
Yes, "Mommie Dearest" tore down that bitch of a bearing wall and put windows where it ought to be for several years at Midnight Mass, exposing many of us to this classic camp film for the first time — even if we were not one of it's fans.
3. ADDAMS FAMILY VALUES
This 2015 production was called "Addams Apple Family Values" (get it?) and the trailer above is a total treat for anyone who loved the show. The show was notable for its casting of Heklina in a rare male-dentifying role (Uncle Fester).
2. GREY GARDENS
They actually called it "Return To Grey Gardens", and the 2013 dance/musical was not a direct interpretation of the groundbreaking and incredibly depressing 1975 documentary. But it had human dancers in the roles of the cats and raccoons, starred Jinkx Monsoon as "Little Jinksy" and Peaches Christ as "Big Peachy".
NOTE: The video below has brief glimpses of nipple and may be considered NSFW. Which should probably give you a clue as to which movie it is….
1. SHOWGIRLS
The always-sold out Midnight Mass screening of "Showgirls" eventually transformed into the epic Castro show "Night of 1,000 Showgirls" and this year transforms into "Showgirls! The Musical" , a full-fledged musical with an original score playing August 10-21 at the Victoria Theatre.
(Dis)Honorable Mentions:
ROMY & MICHELE, THE SILENCE OF THE LAMBS, SISTER ACT, THE WIZARD OF OZ, DROP DEAD GORGEOUS, BARBARELLA, THE CRAFT, WHATEVER HAPPENED TO BABY JANE?, ANNIE, FLASH GORDON,THE WITCHES OF EASTWICK, SPICE WORLD, HOCUS POCUS, DEATH BECOMES HER, 9 TO 5, THE BAD SEED, POLTERGEIST
Like this article? Make sure to sign up for our mailing list so you never miss a goddamn thing!