How To Avoid Summer Crotch Rot
Sign up for the best newsletter EVER!
Okay, so you are a guy or a girl and you worry about keeping yourself fresh down there especially during the hot and humid days of summer am I right?  The last thing anyone wants is to be sitting on a bus or subway when you start to smell something and realize that it is you, been there done yet. Yes, you can shower every day, scrub yourself silly, change your underwear, use feminine products to stay fresh but sometimes it is just not enough on those hot sticky summer days and nights.  You need to do more and take that extra step to make sure you are not smelling like the Hudson River.
The idea of keeping yourself clean is important year round but especially more so in the summer, when you are sweating with your legs and thighs rubbing against each other, just walking outside or a stressful day at work can do it. You can feel the wetness creeping in, for those, not 100 percent sure just slide a finger or two down there and take a whiff, come on go ahead.
During the summer months, everyone is out enjoying themselves whether they are running, jogging, going to the park, laying out in the sun, and hanging out with friends, it's only natural to start sweating down there on those humid and sunny days, but don't worry there is help out there
Personally, I would suggest trimming your crotch area as much as you can, if not shaving it all, isn't that popular these days anyway? I think it is important for both women and men to keep their private areas trimmed and clean although some men feel it is not a manly thing to do, what I say to that is GET OVER IT, it is 2016.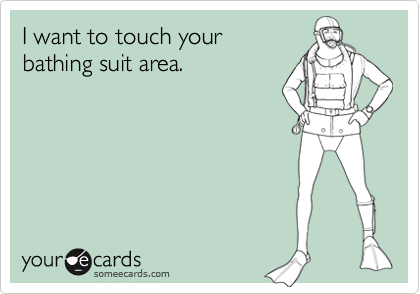 via someecards.com
Summertime means skimpy clothes, perhaps even see through, many guys like to wear baggy and loose shorts where they barely cover the butts while the girls wear short and tight skirts, shorts, and dresses where sometimes the pubs make an appearance, not cool at all.  Who wants to see a sweaty mess in between your legs? Remember those crazy porn movies from the 70's where the women had full blown bushes that you needed a weed-wacker to find the jewels. To be honest, the men weren't that much better, they had hair everywhere, and it wasn't attractive nor sanitary in my opinion.
We have come a long way since those crazy days when one needed a flashlight while you were trolling away trying to find that special g-spot and having to stop to get the pubs out of your teeth, Uggh. Hey, it wasn't fun for the ladies or guys either when they were going down on someone only to fight through a forest before she was able to get to the Promised Land.
Look I understand that for many grooming is a pain in the ass, it is one more thing to do when you are getting ready, but hey, it's your body and its summer, make an effort.  It doesn't take much for sweat to creep in and decide to stay there for a while and if by chance you happen to be with someone and things start to heat up wouldn't it be nice to know that you are fresh and clean for your partner?
I myself prefer everything clean, smooth perhaps a small landing strip to keep things interesting, but overall there is nothing like a smooth private's area to keep things fresh and hot at the same time.  Ok, I admit it's a turn for me, who wants to search and try to find OZ when you can get right to business.
For both men and women if going smooth is not for you please trim your bushes, let your area breath, make sure you shower every day, pay special attention to your crotch area, make sure you wear clean clothes and every now take a whiff and make sure you do not have the dreaded summer crotch rot.
Like this article? Make sure to sign up for our mailing list so you never miss a goddamn thing!