How To Stay Sane When the World Is Going to Sh**
The Bay's best newsletter for underground events & news
If you say you aren't freaking the fuck out right now, then you're lying. The world is rapidly going to shit and we are all going to die from the Coronavirus. *Deep Breath* Sorry, that's the fear talking. 
The truth is, the world is pretty shitty right now, and the uncertainty and unfamiliarity of the current situation are not doing any favors to our already feeble mental health. But, there are ways to combat the horrors we are seeing in the form of statistics, headlines, and media coverage, in order to save our minds from going completely loco.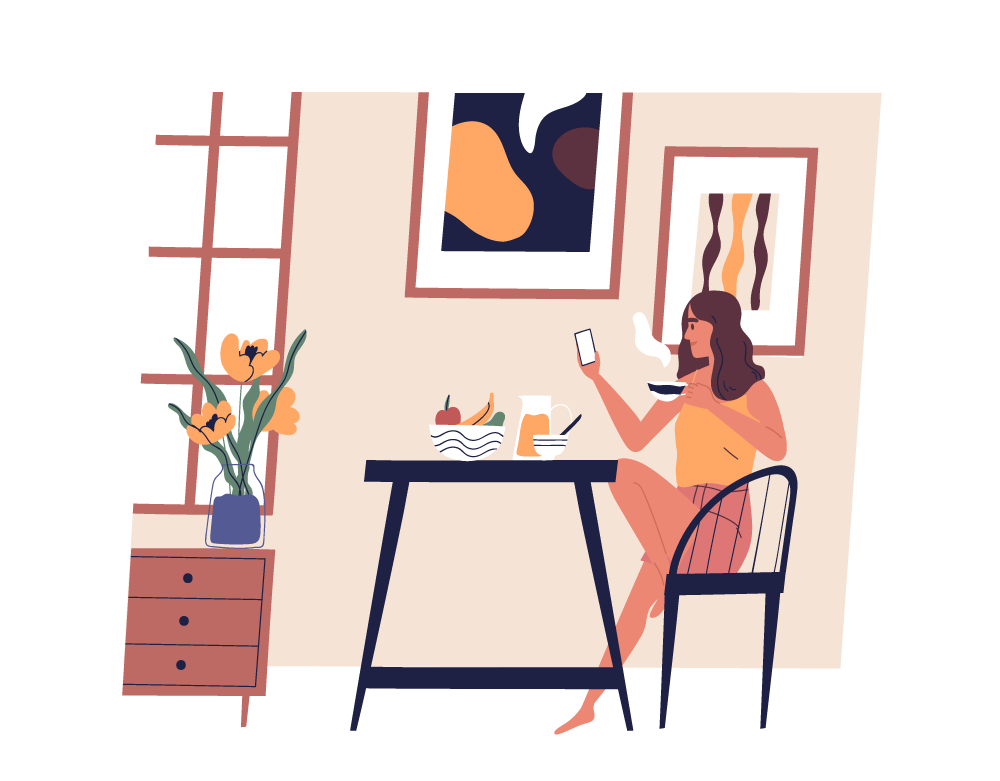 Have A Routine
Ok, so if you are one of the many who have lost their jobs from this devilish virus or have now started working from the comfort of your couch, it is important to keep life as normal as possible. That means getting up early, showering, eating a balanced breakfast or shoving a donut in your mouth — whatever you usually do — and getting to work. If you don't have actual work anymore, then give yourself something productive to do. And, no, that does not mean get whiskey-tanked and watch anime porn while your roommate is on a conference call. I'm thinking more like organizing cupboards, sewing masks for healthcare workers, or starting a personal project. 
Creating a stable routine for yourself, when the world around you is acting downright irresponsible and erratic (seriously, Coronavirus, just stop it), is the number one way to take control of your personal well-being. You cannot control everything, but you can control some things, like how much licorice you're consuming, how late you're staying up, and if you brush your teeth or not. Just because it seems like the end of the world, doesn't mean it has to be the end to your world. Keep living life like there's a chance we will all make it through this alive.  
Fix Your Mindset
Hello — Positive attitude is knocking at your door, but you're too damn stubborn to answer it. I know we are all self-quarantining, but seriously, this guy's fun, you can open the door now. Drowning in self-pity because you lost your job, your hours were cut, or you can't go out drinking is not the way to get through the pandemic. Yes, it's ok to be upset about things, but learn to LET IT GO. We are all in the same boat. We are all scared of what's to come. But, we have to fix our mindset. 
Instead of focusing on the bad, focus on the good. For example, if you hated your old job, when all of this is over, you will have the chance to start fresh at a new job. It may be hard to see the positives right now, but opening that door to positive possibilities will make all the difference in how you see your current situation. 
Also, during this crisis, ask yourself: What can I do to help? This simple question may bring some happiness into your life by giving you purpose when you feel unproductive and worthless because of your recent unemployment. And think, if everyone pitches in, maybe we can kick this cough before summer!
Stay Informed But Don't Stay Scared
Of course, it's important to be informed. However, being informed can lead to being scared, so there is a fine line that must not be crossed. Media time should be limited. Covering the pandemic as a writer has me checking my news apps and Twitter every ten minutes and let me tell you, I am far down the Coronavirus rabbit hole. But, not everyone has to be there. Seriously, get out of my rabbit hole. 
The important information to know is what actions to take to prevent further spread of the virus. There is no need to follow the progression of the disease and death tolls unless you want to cry from anxiety as an excuse to eat an entire gallon of ice cream. However, this will hurt you in two ways, first, you cause yourself unnecessary pain. Unfortunately, there is nothing you can do about the progression of the virus if you are already taking all the right precautions and following the rules like a good little citizen. Secondly, and more importantly, you will have binged on your quarantine snacks and who knows when the next shipment of cookie dough ice cream will make it to your local supermarket?!
Practice Self-Care
Alright, here we go, another article telling you to practice self-care. But, this time, it's serious. Self-care is what is going to get you through this shit-show. I honestly don't care how you do it. It can be as simple as deep breathing when you feel overwhelmed or reading a book in the tub. 
But, hey, if you need a bottle of wine after you were productive during the day, then fine, drink that bitch. If you need to scream into a pillow while your quarantine buddy is shoving it in you, ok, great, hope it feels awesome. Or if you need to meditate to the sound of kittens purring to make you feel like the world will one day be good again, then fucking get out that yoga mat and cross those legs. 
No matter what route you choose, self-care will let you nourish your body, mind, and soul during this crazy uncertain time. Remember that even though the world is spinning out-of-control, you can create a private sanctuary in self-isolation to remain still and mindful. Namaste. 
Like this article? Make sure to sign up for our mailing list so you never miss a goddamn thing!