5 Cutty Hiking Spots to Check Out in the East Bay
Sign up for the best newsletter EVER!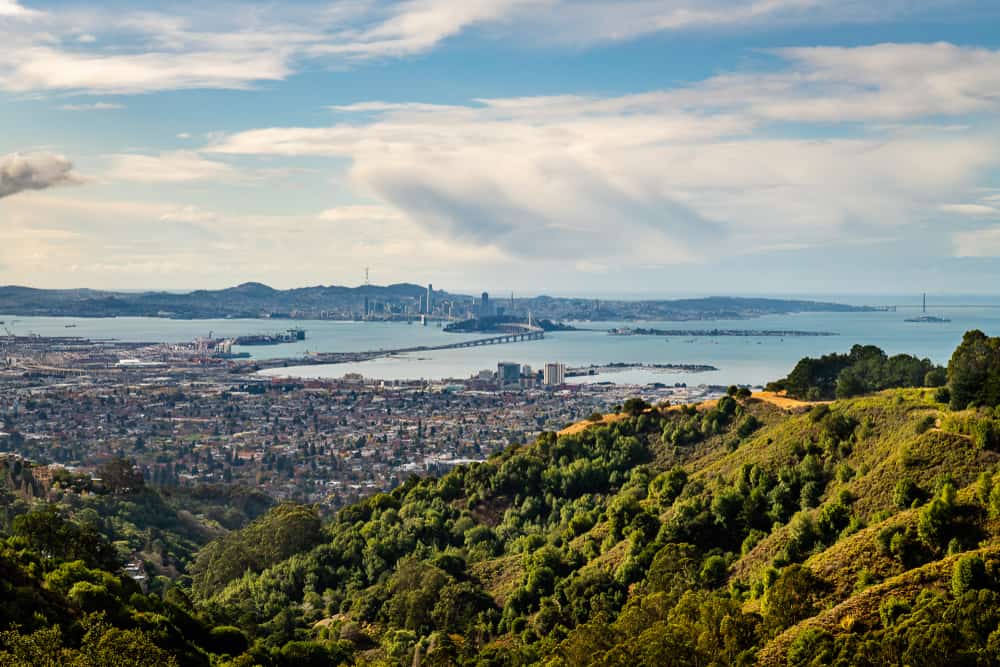 When people think of hiking in the East Bay, especially newcomers, they think of Oakland and Berkeley, and even more specifically, they think of a handful of places in Oakland and Berkeley that everyone has already been to and instragrammed to death. The East Bay is a lot bigger than the same three parks that your friend who "hella loves Oakland" even though they've only been in the Bay a year has recommended to you. Here are some relatively hidden spots in the East Bay to hike in.
---
Wildcat Canyon
Wildcat Canyon sits at this weird spot where Richmond, El Sobrante and San Pablo all meet. It's hidden behind ranch-style suburban homes and lowrise apartment complexes just east of I-80. But this park is one of the best in the East Bay and isn't overrun with people like Tilden, its neighbor to the south. Wildcat Canyon is a pretty dynamic place. Part of it feels like a hidden forest with full tree canopies providing shade on summer days and a calming atmosphere during those foggy winter (or summer) days. Most of the forested part of the trail is relatively flat and easy to walk. However, if you and your Bay Area-hardened calf muscles are feeling ambitious, Wildcat also offers steep rolling hills with panoramic views of the San Francisco Skyline, Mount Tamalpais, the Golden Gate Bridge and the city of Richmond in the foreground. It's definitely worth experiencing for yourself. 
ADDRESS:
5755 McBryde Ave, Richmond, CA 94805
GENERAL INFO:
https://www.ebparks.org/parks/wildcat/
---

Photo of Lafayette reservoir courtesy of EPMUD.
Lafayette Reservoir 
If you, who I am sure is a very hip and cool urbanite, or whatever you call yourself, is willing to drive through the Caldecott Tunnel, then you may want to check out the Lafayette Reservoir. This park is expansive, offering nearly 1000+ acres to explore. There are paved beginner friendly trails like the one that runs alongside the reservoir itself and more advanced trails that take you through the treedense hills that Lamorinda is known for. It's genuinely a beautiful place. Also you're in Lamorinda, so your car probably won't get broken into, And if it does, I'm sure someone will call the police, and the police might actually pretend to care because it's Lamorinda and they have nothing else to do except for pulling over day-drunk karens in expensive cars who say things like "I pay your salary" as if local taxes are unique to them. But yeah, nice park. 
Address:
3849 Mt. Diablo Blvd. in Lafayette, CA
General info:
https://www.ebmud.com/recreation/east-bay/lafayette-reservoir/
---
Carquinez Strait Regional Shoreline
Martinez is a meth lovers refinery-polluted paradise, it also has parks and some of them are good. This one is good. It sits along the southeastern shore of the Carquinez Strait with panoramic views of Benicia and Vallejo to the north, the remaining ships of the mothball fleet to the east, and it is one of the few places in the Bay Area where you can see both Mount Tamalpais and Mount Diablo simultaneously. This park is rarely crowded and is somewhat of a locals only spot. The park is hilly and not very friendly for beginners, but if you have buns of steel and you're willing to breathe in those delicious fumes, this is a great place to explore and you will get some serious East Bay clout tokens since you're 25 minutes out of Oakland. Go get 'em Christopher Columbus of Contra Costa. We await the rent increases and the faux social consciousness your presence will surely bring. Also I moved to Oakland, so I should probably shut the fuck up. Enjoy. 
Address:
11 Carquinez Scenic Dr, Martinez, CA 94553
General info:
https://www.ebparks.org/parks/carquinez/
---
Sunol Regional Wilderness 
Since everyone in Contra Costa thoroughly hates me now for dry snitching about some of the best spots (I haven't even said anything about Point Molate, don't hate me yet) we're going to shift focus to Alameda County, and specifically Fremont's Sunol Regional Wilderness Park. When people think about parks in Fremont, they generally think about Mission Peak, and that's fine, but if you don't want to deal with crowded parking lots filled with annoying people, then this is the best Fremont has to offer. The park is located in a steep valley with rolling hills in both directions. The park goes through an unincorporated part of Alameda County called Sunol leading toward Pleasanton. There are a ton of trails that make the steep price of living so close to Silicon Valley worth it. For you, not for me. Fuck that shit, but the park is still a great place to unwind. 
Address:
General info:
https://www.ebparks.org/parks/sunol/
---
Canyon, CA
Canyon is a small town that is pretty much entirely composed of regional parks. Canyon straddles the line between Alameda and Contra Costa Counties and sits where the Oakland Hills meet Lamorinda. I'm not going to give you a specific place to go to, just google Canyon, go to it, if you can't find a place to hike, well, you're doomed.
Address:
Figure it out.
General info:
Go there and figure it out.
---
If you like this article, follow @abeisabadwriter on Instagram.
Like this article? Make sure to sign up for our mailing list so you never miss a goddamn thing!