NYC's Thanksgiving NFL Bar Guide
Sign up for the best newsletter EVER!
Thanksgiving is upon us and we know it's great to be with family but there's a point where there's just too much togetherness. I personally have used (and will continue to use) sports to get out of social interactions with my kin. Bless America's gridiron icons for duking it out on turkey day and giving us all an excuse to sneak away for booze and sportsball. And thank goodness for those early games that allow you to lay a nice base of alcohol indifference. You'll be good and toasty when you have to face your slightly racist grandma and weird cousin who hugs too long. Here are 6 bars to find sanctuary in on Thursday.
EAGLES v LIONS @ 12:30PM
Image via Turtle Bay
Turtle Bay (987 2nd Ave) is the #1 spot for Eagles fans in NYC.  They will be running a $20 open bar that includes all domestic drafts and wings! Lovingly devour every wing with the care and concentration of Mark Sanchez. The deal runs for the entirety of the game and they do suggest to call ahead to reserve if you plan on meeting up with a few pals: 212.223.4224
Image via Yelp
If any fanbase needs a drink it's you. Detroit hasn't suffered enough so here's the 3-7 Lions. No worries though, you're on a hot streak now. Guzzle down those suds at Mercury Bar East (493 3rd Ave) this Thursday. Clear your mind of familial responsibilities and concentrate those efforts on Megatron and a $15 PBR bucket.
Panthers v Cowboys @ 4:30 PM
Image via Big Apple Riot
Amity Hall (80 West 3rd) in Greenwich Village is the gathering spot for Panthers Nation. Things are looking mighty good for Sir Purr and company, being only one of two undefeated teams in the league at 10-0. Amity is a craft beer bar so there's plenty to choose from for their $25 buckets and endless jumbo wings. I also hear they get numbers to turn out too, so keep that in mind before heading over.
Image via Stone Creek
Fans of 'America's Team' (aka the Cowboys) have made Stone Creek (140 East 27th) their home. With decent wings and solid slider prices you might be able to make it through the game. However, they are known for cocktails so the drinks tend to be more expensive. But if you don't mind shelling out a little more for a fancy concoction this bar has luxury suite written all over it.
Bears v Packers @ 8:30 PM
Image via Overlook
I actually really like the Overlook (255 East 44th) despite it being a Chicago bar. It's cozy downstairs and the prices are great. Cheap pitches and bottle buckets are a good way to go also. The even have their own menu just for Bears games. But the fact that the Cutler Cutlet isn't served smoked is a grave oversight.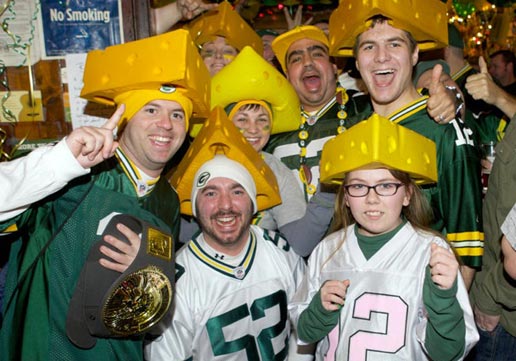 Image via Kettle of Fish
Cheeseheads have been throwing them back in Kettle of Fish (59 Christopher Street) for a few years now. I've been in here just to chill in the back and watch my pals play pinball and really dug it. It's a rad no frills bar with cheap booze. Just channel your inner Aaron Rodgers and order every drink as a double check.
Like this article? Make sure to sign up for our mailing list so you never miss a goddamn thing!