Save Beetlejuice from Being Unjustly Booted off Broadway
Sign up for the best newsletter EVER!
Last year I saw that one of my favorite films of all time was being turned into a Broadway musical.
I'd never been a huge musical fan in general, but I was still really excited by the news. Here I was, living in New York City, finding out that the one and only "Beetlejuice" was coming to Broadway soon!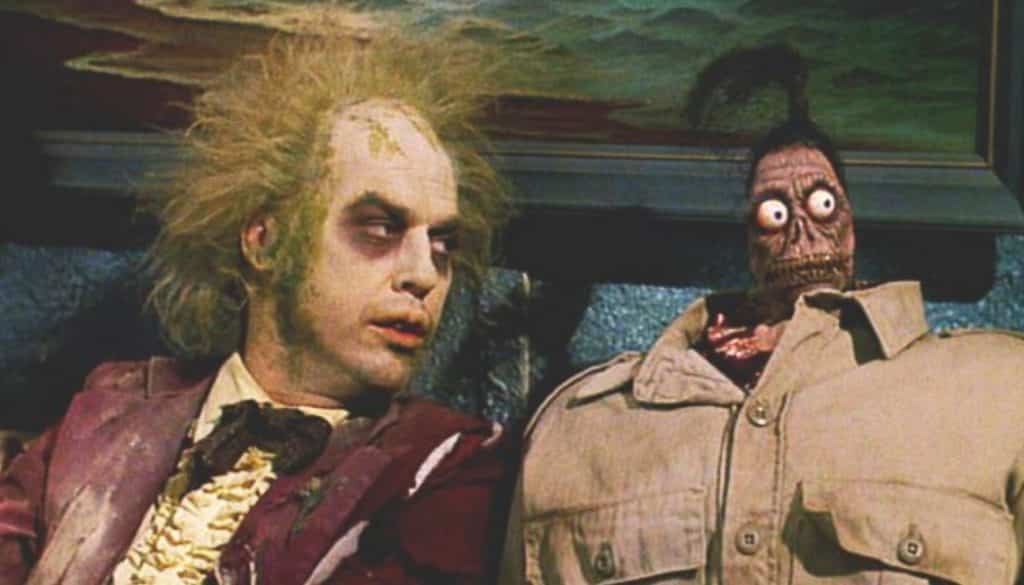 Just so you know, I'm a huge Tim Burton fan in general but Beetlejuice, specifically, is my favorite. I'm a collector of Beetlejuice merchandise, I write in The Handbook For The Recently Deceased, and I even have a tattoo of Beetlejuice mixed with a panda (my favorite animal)…so you could say I'm a megafan.
Join our weekly newsletter so we can send you awesome freebies, weird events, incredible articles, and gold doubloons (note: one of these is not true).
I recently saw the musical, and I was blown away with what they did. So much so that I'll probably be seeing it again soon. I wish this article was all sunshine and Sandworms, but unfortunately, it isn't. You see, this is definitely a review of the Broadway show from a lifelong fan of the bio-exorcist but… well… it's also a call to action. In June of 2020, the musical (which has been consistently selling out, by the way) is being evicted from its home at The Winter Garden Theater. And, for lack of a better term…fuck that noise!

Before we get into the doom & gloom of the show being unceremoniously booted from its home, let's talk about the show I want you all to help save, shall we? Okay… it's showtime! See what I did there? You see, in the movie…fuck it, you know what I was doing.
The show on Broadway deviates from the source material because it's a musical and the OG movie wasn't. In the Broadway show, Lydia Deetz is seen at the funeral of her mother with the rest of the Deetz family. This is the focus of the story in the musical: Lydia wants to reunite with her mother and attempts to use Beetlejuice as a guide to the other side to reunite with her. But it's not that easy when you're dealing with Beetlejuice, so we've got more to talk about.
The Maitlands essentially have the same role as they did in the film version: They've died, and the Deetz Family has taken residence in their home, and Barbara and Adam want them gone. The musical is set in present day, so the Maitlands are two boring white people that are coming to grips with the fact that they wasted their lives now that they're dead… with the coaching and help of Beetlejuice, of course.
Speaking of Beetlejuice himself, Alex Brightman does an AMAZING job making this version of the dead guy stand out. He's as brash as ever but with a new R-Rated twist and more unhinged energy. He's nasty and funny and deviant and treacherous but also has his own backstory that I won't ruin for you. What I will tell you is that he had some Michael-Keaton-sized shoes to fill and he did it perfectly for what this production required. Brightman is an amazing singer but his comedic timing is also incredible. Coming from a stand up comic, I'm telling you that he was hitting jokes left & right with absolutely masterful timing and precision. I was blown away by it and pretty goddamn jealous, to be honest with you.
The songs vary wildly, but it all works very well as a whole. The songs go from ballads to hyper energy to humorously filthy to genuinely heartfelt seamlessly. It's legitimately one of the most fun times I've had in a Broadway theater. It takes away some things from the film but adds some things as well, along with keeping our favorites around (sandworms, killer shrimp dinner, and floating Lydia are all there, don't worry). From this diehard, lifelong Beetlejuice fan, I cannot recommend the show enough. Go see it.

I'm telling you to go see it because it's a great show, but I'm also telling you to go see it because it doesn't deserve to be kicked out of The Winter Garden Theater. The show is selling out every week, the stage show is incredible, the performers are amazing, and it has all the ingredients to continue to be a success for years if Broadway allows it.
Broadway theater space is not something that it easy to come by. It's a competitive and cutthroat scene, for anyone unaware, and the reason this miscarriage of justice is even happening has nothing to do with the show's performance. It has to do with money and who is willing to pay the money for the show to be put in that space, I'm sure.
This theater eviction would force the production to close or move to another theater… and moving would be very, very hard due to the sheer size of the stage show alone.
So what can we do, you ask? We can be vocal with our wallets (of course), our voices, and our words. There is a petition going around to save the show from eviction. We can sign that. We can buy tickets. We can buy merch from the production. We can tweet at Broadway to say we don't want the show to leave. We can tweet the show itself to show support.
So let's get off our asses, go see the show, take to the internet, and spread the word to #SaveBeetlejuiceOnBroadway right now.

Beetlejuice! Beetlejuice! Beetlejuice!
Like this article? Make sure to sign up for our mailing list so you never miss a goddamn thing!