Why the Santa Clara 49ers are going to win the Superbowl
Sign up for the best newsletter EVER!
I love San Francisco and I love my 49ers.  And even though I hate Levi Stadium, and I've cursed the team's owners, and made far too many Tomsula jokes, I will never stop loving the 49ers…even if it takes 3 train transfers, two hours, and way too much money to get to Santa Clara for a game.  I'm used to the good things in San Francisco moving away.
Here is a brief history of the team, and the reason the 49ers, (along with the Yorks) are going to win their 6th Superbowl on Sunday.
It's a been long time since the Niners left Candlestick, a long time since Montana to Rice, a long time since Coach Bill Walsh changed the game's playbook forever with his West Coast Offense, a long time since the 5 championships (and 1 casino scandal) of legendary owner Eddie DeBartolo, a long time since epic playoff battles with Cowboys and Packers,  a long time since management chose Alex Smith in the 2005 draft, over a Quarterback out of Cal and life long Niners fan, named Aaron Rogers…
Join our weekly newsletter so we can send you awesome freebies, weird events, incredible articles, and gold doubloons (note: one of these is not true).
The 2000's were a rocky time for the 49ers. This was the period when the young Prince York was given the keys to the Kingdom.  Jed York was 35 years old and made CEO of the 49ers by his own mother.  God help us all.  Thus began the decade of Coach firings and losing seasons.  the Niners fired coaches Erickson, then Nolan, then Singletary, then Tomsula, until lightning struck in Palo Alto, and Standford Coach, named Jim Harbaugh, began winning games and stealing headlines from the Niners.
Jed hired Jim in 2011.  On paper, the two boys from Ohio had a lot in common. They both grew up in football families and in the midwest. But Harbaugh grew up the son of an athlete, fighting and competing against 3 brothers.  He had the psychology of toughness, he had played the game, he had blue-collar discipline, and a win at all costs mentality.  Prince York and Coach Harbaugh did not like each other.
Flash forward to losing the Superbowl in 2013.  It was a loss that a shaky marriage between coach and organization could not take.  The Superbowl hangover with he 49ers was very real.  Shortly after, the team's legendary players had left or retired,  Harbaugh was fired, and fans settled in for 5 consecutive seasons of mediocrity and loss.
The fans, who were sore about the team moving away from San Francisco, and sore about losing their beloved coach and their winning spirit began flying 'fire York' banners during 49er games.  The team had adopted the slogan 'the 49er faithful' which sounded a lot more like a plee to fans not to leave, rather than the battle cry of champions.
Jed York was a young guy with the weight of a 74-year dynasty to carry, and that, even for a billionaire, is not an easy burden to carry.  Now, Jed is a lot smarter and tougher after getting his teeth kicked in the press and in the Levi Stadium stands for several years.  He smartened up, took himself off the podium and put in men like John Lynch and Kyle Shanahan.  Who used those losing season to draft incredibly well.
We picked up a ferocious defense. 5 first-round picks on the defensive line.  Fuck yes, John Lynch. They also got two of the best blocking tight ends in football as well as two outstanding tackles.  The 49er trenches, built starting in 2017, are now the strongest, meanest fighting lines in football.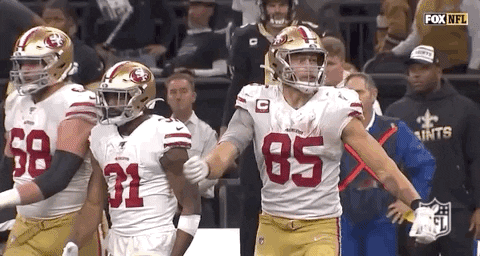 We have Kittle.  And that lovable idiot does something special and incredible every game.  He's the best tight end in football by a long shot.
And let's not forget the gift from the football gods in a trade for Jimmy Garoppolo.  Thank you Bill Belichick (and Tom Brady for not retiring.)
Now, with Kyle Shanahan, the best running game in football, and arguably the best defense, the 49ers face the Kansas City Chiefs who have not been to a Superbowl in 50 years.  It's passing vs rushing in Miami. it's Maholmes against the world, and defense wins championships.
Even if the trophy will live in Santa Clara, the team's heart is in San Francisco.
Like this article? Make sure to sign up for our mailing list so you never miss a goddamn thing!