NYC: Sit Your Ass in the Grass
Updated: Jun 22, 2011 13:02
The Bay's best newsletter for underground events & news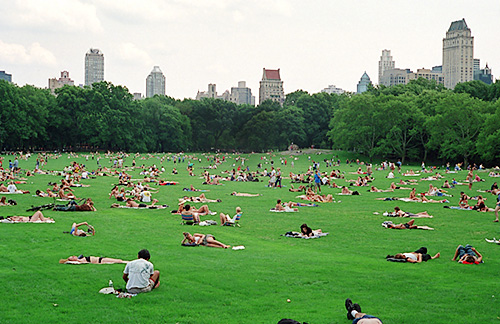 New York is currently in the midst of an on-again off-again springtime. Temperatures have vacillated wildly and we've had several chilly rainy days lately, which sucks and has me dreaming about the 88 degree weekend from a few weeks back.  Since New York only has about five habitable months per year, you want to make the most of the nice days.

If you're lucky enough to have a backyard, you already know how awesome it is to sit outside all day and far into the night, drinking beers, listening to music and having your friends over to grill up some burgers . A roof-deck and a balcony are pretty sweet, too. Even a stoop or a street-facing fire escape can be the perfect spot to just relax and watch the people.
If you are like me, though,  you don't have any of those things and your only real option is leaving your house and going to a public park. It is kind of lame to have to ride the subway to enjoy nice weather, but New York does have some damn good outdoor spaces other than Prospect Park and Central Park. Here's a list of 5 kinda, not really off-the beaten path favorites. One of them should fit your scene needs.
Best Spot for Watching Chelsea Boys Check Each Other Out: Hudson River Park
What used to be a derelict, depressing stretch of highway along the admittedly ugly Hudson River has been transformed into 550 acres of bike paths, green lawns, and  surprisingly clean bathrooms.
Lay on the so-lush-it-must-be-fake grass with a picnic and a bottle of wine, (or grab a snowcone from the vendor carts nearby) slowly slide your sunglasses down your nose and wink as tan, be-rollerbladed Bradley and friends go sailing by on their skates, or just pass out in the grass and be glad you're not on the other side of the River.
Enter Along West Side Highway at West 12th Street

Best Park to Meet a Former Millionaire or ponder New York's Early Days: Battery Park
From it's earliest days as a defensive site in old New York this southern tip  Manhattan park has been a popular promenade spot.  It's not too crowded and the thick foliage and greenery lend some privacy.  Its proximity to Wall Street ensures that you're likely to find a sobbing, deposed hedge-fund president or another such casualty of the economic crisis.  Comfort one another in your indigence as you sit and watch the river, smell the salt air and try to convince yourselves you're in the Hamptons or something.
Take the 4/5 to Bowling Green , the R/W to Whitehall Street or the 1 to South Ferry.
Best Spot to  Watch a Junkie Breakdance on a pile of used IV Needles: Tompkins Square Park
Born under a bad sign, Tompkins Square Park has been the site of some pretty raw shit since it opened in 1850. From violent labor riots, Vietnam War Protests and the drug-riddled tent cities of the late 80s, this newly refurbished park is at the heart of Alphabet City. Now, like everything below 14th street it has been sanitized and Disneyized with playgrounds and dog runs. Most of the local homeless, dealers, chess players and neighborhood personalities are gone, but between the PCP'd out junkies flailing their arms and shouting away at nothing, and the NYU students doing their best to imitate the movie Kids, there's sure to be something to entertain you.
7th Street at Avenue A
Best Place to Forget You are in New York: Fort Tryon Park
Home of the Metropolitan Museum's  Medieval Art Annex "The Cloisters", Fort Tryon Park is up on 190th street and is so secluded, quiet and verdant that you truly feel as though you've left the city behind.  If you have a couple of bucks to spare, check out the museum with its ancient courtyard, crazy unicorn tapestries and beautiful views.  You will return to the city utterly refreshed.
The A train to 190th Street, follow the signs for the Cloisters

Best Place to Sit and Stare at A Body of Water while Mourning the Demise of Your Relationship:  Carl Shurz Park
What better way is there to cope with life's romantic pitfalls than to sit bleary-eyed, clutching a "We Are Happy to Serve You!" cup of deli coffee and staring forlornly out at a body of water? None.  This park along the East River has plenty of benches for contemplating what went wrong, cobblestone paths for ceaseless pacing, lovely grassy plazas with shade trees, a close proximity to the mayor's home at Gracie Mansion and dark tunnels for crying into when it all just seems like too much.  And if that doesn't do the trick, take a stroll past a bunch of rich asshole's houses on your way to the subway. That should cheer you right up.
Entrance at 86th Street and East End Avenue
Best Place to Start Something New: Brooklyn Bridge Park
I know that Anna covered this in her Operation DUMBO Date post but seriously, the charm of this place cannot be overstated.  You could fall in love Uday Hussein here, on a cool clear evening, that's how goddamm romantic it is. And you can point to the beautiful River Cafe at the foot of the Brooklyn bridge, which neither of you can afford.  If she doesn't love sitting under a weeping willow, drinking clandestine wine and gazing over the bridge as the lights of Manhattan come on, take her miserable ass to the Brooklyn Ice Cream Factory next door and stuff her face with enough Belgian Chocolate Toffee to muffle her complaints.
1 Main Street, Brooklyn NY
Like this article? Make sure to sign up for our mailing list so you never miss a goddamn thing!