FREE Music and Parties! CHIN CHIN, GUMBO, and the BEATARDS
Updated: Aug 16, 2009 11:29
The Bay's best newsletter for underground events & news
It's hot, stagnant, and sticky here in Brooklyn.  There's no use beating it, so why not just indulge?  Get in the mood for some freaky, all-night dancing and soulful music events this week.  And just for you, all of '˜em are FREE.
~~~
Tuesday August 11th 8pm – CHIN CHIN at the Prospect Park Bandshell (oh yeah, and you'll also catch 'œTV on the Radio' and 'œGang Gang Dance' if you stick around)
Chuck Wild from the Beatards (see Friday) turned me onto Chin Chin.  As he puts it, they've got this 'œretro-soul disco flavor with some smooth whiteboy falsetto.'  And I'm loving it.  The real reason I want to see them live though, is for their smarting brass section.  Outside.  Summer has arrived!
Prospect Park Bandshell (Inside the Park at Prospect Park West and 9th Street) [Prospect Heights/Park Slope, Brooklyn]
~~~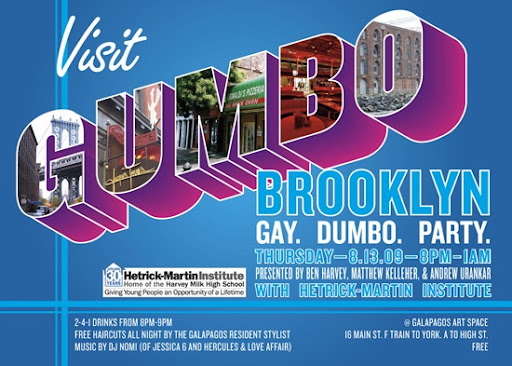 Thursday August 13th 8pm – GUMBO = Gay + Dumbo + Party at Galapagos
Isn't it about time that DUMBO has it's first Gay Party?!  The offbeat Galapagos Art Space welcomes all guys and girls for this fun, anti-scene, night out. 'œManhattanites" welcome, of course.  2-4-1 drinks from 8pm-9pm plus FREE haircuts ALL NIGHT by the Galapagos resident stylist.  Party is hosted by radio personality Ben Harvey, Matthew Kelleher & Andrew Urankar and featuring DJ Nomi (of Jessica 6 and Hercules & Love Affair!)
Galapagos Art Space, 16 Main Street (at Water St.) [DUMBO, Brooklyn]
~~~
Friday August 14th 9pm – The BEATARDS at Hope Lounge
The BEATARDS '" two MCs and a DJ – have been making their way through the underground hip-hop circuit as of late.  Sick rhymes, mad skills, and a healthy sense of humor, these fellows are worth falling for.  And with those big bad beats, you can't help but fall hard.  Their newest music videos directed by Christine Turner are up here.
Hope Lounge, 10 Hope Street (b/w Robeling and Havermeyer) [Williamsburg, Brooklyn]
Like this article? Make sure to sign up for our mailing list so you never miss a goddamn thing!