Best (and Cheapest) NYC Bars to Catch March Madness Games
The Bay's best newsletter for underground events & news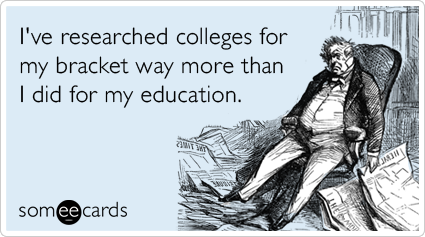 Photo from someecards.com
So it's only day two of the NCAA tournament and your bracket's already busted? Maybe you didn't even fill out a bracket at all and you're laughing at all the dumbasses who were actually stupid enough to think they'd win a billion dollars. That's okay. Because by now you know that any annual occasion is an excuse for NYC bars to offer awesome drink specials and for you to take advantage of them.
I love March Madness, but one of the most depressing things about it is that each year I get older, but the players stay the same age. To combat said depression, the only logical thing to do is drink. And cheaply, of course; otherwise your bar tab is just something else to be depressed about.
And why shouldn't you have a cheap, frosty beer in hand when that twelfth seed you picked to upset the fifth seed puts the finishing touches on their Cinderella story? The kid who made the winning shot may not be legally old enough to drink, but that shouldn't stop you. March Madness is a fantastic time to take that mental health day from work you've been dreaming of and do some cheap day drinking.
The Wharf Bar and Grill (3 Avenue between 38th and 39th Streets) is one of my favorite NYC spots to catch a game. For one thing, it's one of the only bars you'll find in midtown that offers happy hour all day and night on Saturdays. The deal includes all drafts for $4 (not just for watery domestic pints that shall remain nameless) and the bar is, ahem, "tapped" with a wide selection of craft beers, including Goose Island, Magic Hat, and Captain Lawrence.Enjoy a different special every night; my personal favorite besides the Saturday pints is $1 Taco Tuesdays. Non-beer drinkers can take advantage of $5 Absolut drinks in a variety of flavors from 4-7 each weeknight.
The ambiance at Wharf is hard to replicate in NYC. The subtle nautical theme permeates throughout the two-floor bar in the form of crisp hardwood floors, barrel-shaped tables, and tasteful wall decorations. On warm days the upstairs terrace opens up. And–here's the best part–you can actually see the TVs from the terrace. It's a rare and very good day in New York when you can sit outside with a libation without relinquishing view of the game.
If you're a sucker for an Irish brogue try Fiddlesticks (Greenwich Avenue and Perry Street, West Village), another Manhattan gem that will go easy on your savings account, in the sense that going there will enable you to have one. For starters, the bar is kind to overtime workers; happy hour lasts until 8 on all weeknights and offers all beer, wine, and spirits for $4. Also check out the brunch special if you're looking for a viewing spot this weekend for the Round of 32, or the Elite Eight later on (March 29-30). Fiddlesticks offers a brunch entree–such as an omelette, steak and eggs, or traditional Irish breakfast–with two drinks for $10.
Speaking of food, there's no cheaper place to fill up on wings than Croxley Ales (Ave. B between E. 2nd and E. 3rd, Alphabet City; Grand Street between Kent and Wythe, Williamsburg; multiple locations on Long Island). On Mondays, Tuesdays, and Wednesdays enjoy 10 cent buffalo or BBQ wings, or try a specialty flavor like Thai lemongrass or Cry Like a Baby (at your own risk, natch) for a slight increase in price. Try boneless wings for 10 cents each on Saturday from 12-5 while you're taking in the games, and pair them with one of the 48 beers on tap.
The moral of this story? Don't cry over a busted bracket; drink instead!
Like this article? Make sure to sign up for our mailing list so you never miss a goddamn thing!