Clueless Tourist Complaints : New York City Edition
Sign up for the best newsletter EVER!
Last week I was waiting in line for a signing at a bookstore around Turtle Bay and over heard a family of tourists heading to the Central Park Zoo. If you've been there, it's not much but…still kind of fun to see animals you don't usually see. The mother seemed perfectly blissful to be going but Teenage Johnny had a different opinion. "Why are we going to a zoo? They don't even to anything when you get there!"
Well Teenage Johnny there's a whole group of travelers you will find a kinship with. Here's some miserable tourists who visited New York City and were just like sooooo not impressed. They were so not impressed they felt the need to write a review on TripAdvisor. Enjoy these big apple gems.
::social media pictures do not necessarily depict people who wrote these trip adviser reviews::
Museum of Natural History – "Night at the Museum was Batter"
 
Image via instragram/jasminparkin
Lsbrn from Riverside, CA
We walked around and around the bottom level, saw some stuffed animals and some rocks. Walked through the "big bang" area which was disappointing, and more rocks.
Metropolitan Museum of Art – "What's this all about?!"
Image via instragram/benyaminrahmani
YoshiBoy700 from Montreal, Canada
I personally hate art, and history. It's  just too much boredom in one place, if something were to be more boring it would be shut down. Inside you will see a few sculptures followed by few artifacts and even some paintings….Double Yawn…Only positive thing is that its near 5th avenue for shopping.
Central Park – "Just some grass and trees"
Image via instragram/ladymandarine
Milo123456 – No location
Its just grass, trees, overpriced cafes. Surrounded by buildings in a square. Filmed from a helicopter it might be interesting, but you will not be able unless you have military permission. Booring.
Rockefeller Center – "Not sure what the big deal is"
Image via instragram/wellington_girl
Jojo G from London, England
Yeah a tall building, cool but not really for young people unless you are into historic stuff.
Times Square – "Dirty and Overrated"
Image via instragram/dominikvalidzic
dbensonoh from Ohio City, OH
Definitely not a family friendly place to visit! Our college aged son had naked women soliciting money from him to have a picture taken with him. Both men and women are allowed to be fully naked because it is considered "art." It is shocking for your family to be exposed to that.
Grand Central – "Basically a Third World Country"
Image via StyleWiseTrendFoolish
Tom249 from San Diego, CA
Aside from the smell of urine, the 95F temperature and the pigeons it was like any other large, crowded, confusing transportation hub.
Radio City Music Hall – "No Standing Ovation"
Image via instragram/cassie_cash101
TA member – no location
One of the most boring things that I have ever experienced. Climbed six flights of stairs and sat in a very confined viewing room and watched a video. Met a Rockette……sorry lost on me, are they some kind of national institution? Highlight of the tour for was the exit sign.
Madison Square Garden – "Only Solution: Demolishment"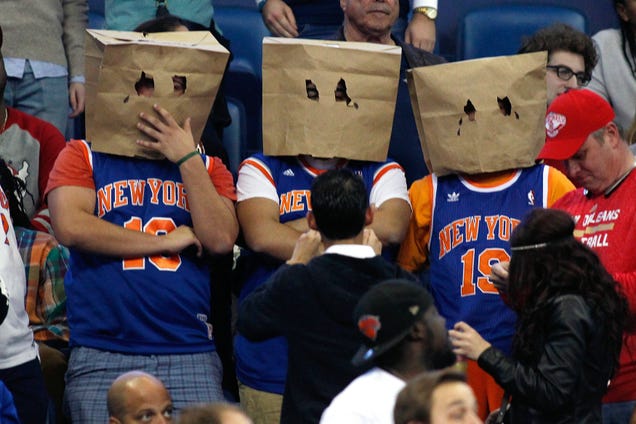 Image via deadspin.com
Steven H from Nyon, Switzerland
Two losing teams – one is so sad they've only won one Cup since Hitler invaded Poland. Yet the Knicks and the other silly team charge a boatload for tickets and have the gall to add a service fee even when you buy at the arena.
Statue of Liberty – "Only for Enthusiastic Americans"
Image via instragram/vini_siqueira10
Hjammer from Yonkers, NY
it was bad cause i dont like the sight its just a statue. noting else the tour was bad. really i dont get it. this was the worst trip ever.
Museum of Modern Art – "For Liberals and Artists Only"
Image via instragram/jamesrfuller
Steven C from Eagle, Idaho
Are you going to NYC with a family? Do you appreciate REAL art? Skip this place and go to the USS Intrepid. Yeah the Van Gogh "Starry Night" was cool, but having to wade through a cesspool of visual vomitus to get there just wasn't worth it. I want those 2 hours of my life back.
Like this article? Make sure to sign up for our mailing list so you never miss a goddamn thing!