Screen Circus Short Film Festival
The Bay's best newsletter for underground events & news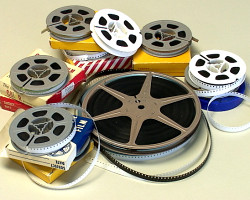 One of the very first events I attended as a wide-eyed little 18-year-old in San Francisco was a local film festival at the Red Vic Movie House. Since then I have been absolutely in love with the tiny theater in upper Haight, where you can eat popcorn in wooden bowls and home made peanut buttergasmic cookies while sitting on a couch-bench watching amazing indie flicks or late run blockbusters for way cheaper than the fucking Metreon.
Keeping up with the tradition of supporting the local film community, Screen Circus will be holding a short film festival at the Red Vic this Sunday at 4:00 PM. The event will feature a series of short films 'œpromoting bold local filmmakers whose mission is to shatter the boundaries of cinema.' Consider your cinematic boundaries shattered (or at least severely cracked).
Tickets are only $10 but the lovely people at Screen Circus have provide the Broke-ass community with one of our favorite things: a discount code!!! Just type in "iloveshortfilms" on the ticket page and you will receive a $2.50 discount!
Screen Circus
Red Vic Movie House
1727 Haight Street (Btwn Shrader and Cole) [Upper Haight]
Sunday, September 19th, 4:00 PM
$10 ($8.50 with discount code)
Photo from:alikapadiafilms.com, recyclethis.co.uk
Like this article? Make sure to sign up for our mailing list so you never miss a goddamn thing!